RamaLama

brings the best of 1950s and 1960s a cappella doo wop to life.

Formed in 2015 and b

ased in central Pennsylvania,

RamaLama

has more than 60 classic tunes in its repertoire and is never afraid to try something "on the fly" when the audience requests it.

The varied talents of each member shines during performances, making for fun and interactive audience experiences.

Whether performing on the main stage to a packed venue or strolling at a private event,

RamaLama

is

pure entertainment!
Thanks for being such a great audience at First Night State College 2018! It is always more fun when we have a full house and we appreciate you braving the elements. Be sure to catch us on January 18th for our next show at the State Theatre. We're learning 5 or 6 new tunes to share with you and have a fun night planned. Tickets sold out weeks in advance last time, so be sure to get yours early. Visit:

thestatetheatre.org/doo-wop-in-the-attic-with-ramalama/

Upcoming Shows


Past Shows

Powered by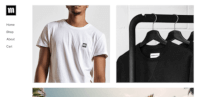 Create your own unique website with customizable templates.